On August 9, 2022, Australia's COVIDSafe app was officially decommissioned and all of its functionality was removed. People were told to uninstall the app. Reports of its closure have made international headlines.
In shutting down COVIDSafe, Health Secretary Mark Butler said the "Albanian government acted to delete the wasteful and ineffective COVIDSafe app" and accused the previous government of "allocating more than $21 million in taxpayers' money to this failed app". waste.
Was COVIDSafe a miracle cure like the previous government envisioned or a total failure like the current government would have us believe?
The writing was on the wall
The app was launched in April 2020 to help manual contract tracers find positive COVID cases.
Rewind to the early months of the pandemic, and then Prime Minister Scott Morrison encouraged Australians to download the app, which he likened to applying sunscreen when going outside and a "ticket to opening up our economy".
It was already clear to some in 2020 that the app would not live up to expectations. It also disappeared from the vocabulary of politicians, with calls for it to be abolished by 2021 mounting.
Overall, the app's decommissioning this week shouldn't come as a surprise – there was also a strict sunset clause written into the law when it was developed.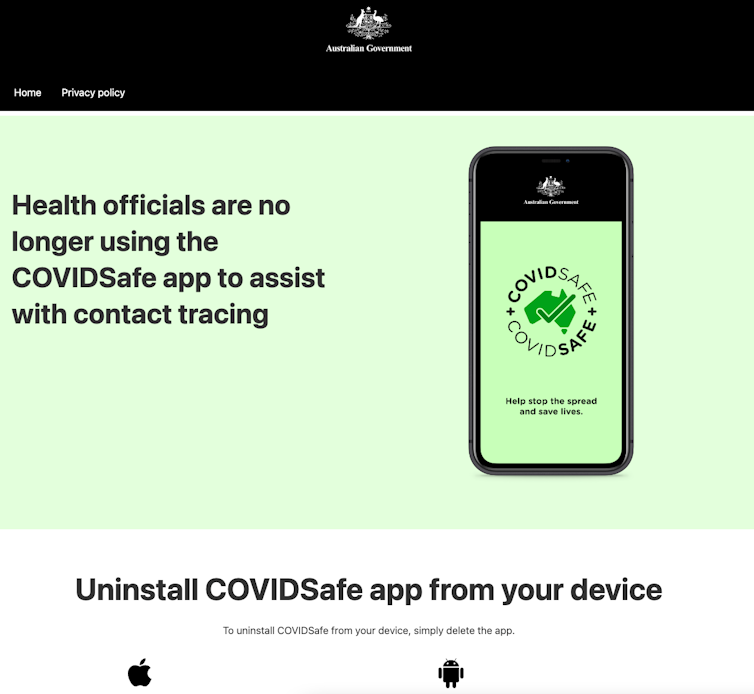 But is there a bright spot – can we learn anything from the COVIDSafe experiment? Here is our score card.
Some pass, some fail
PASS: Automation of manual contact tracing
At the onset of the COVID-19 pandemic, most public health systems relied on manual contact tracing, a tool many initially believed ineffective for large-scale management and control of a rapidly spreading disease.
One of COVIDSafe's goals was to automate manual work to support the efforts of contact tracers at scale. This goal was achieved, although the value and effectiveness are questionable, as we will discuss below.
PASS: Mass Adoption
Few systems have had to be adopted as quickly and widely as COVIDSafe. The app has reached the originally expected target threshold of 40%. There have been over 7.7 million downloads with 3 million Australians downloading the app as of the end of April 2020.
Getting so many Australians to download new and competitive technology is an unprecedented achievement. While the number of downloads doesn't tell us how many people were actively using the app, it does show some success in getting people to at least download and engage with it.
Making the app accessible to a wide range of people with different technical skills was also a major challenge. Despite its questionable effectiveness, technical and registry issues, COVIDSafe has struck a balance between aesthetics and relative ease of use.
---
Read more: 70% of respondents said they would download a coronavirus app. Only 44% did. Why the gap?


---
FAIL: Improve contact tracing efficiency and accuracy
The COVIDSafe app only helped identify two positive cases that were not reported by manual contact tracing. This is partly due to the success of Australia's crackdown strategy – low case numbers in 2020 meant the app was not fully tested 'in the wild'.
As of November 2021, only 792 COVID-positive COVIDSafe users agreed to upload their data to the national database. Australian states also introduced QR code scanning in public places (such as transport, shops, sports venues, cafes, hotels and restaurants) which overlapped with the app's role.
An independent review suggests that COVIDSafe was "an extra step that added to the workload [for contact tracing staff] without providing any added value".
FAIL: Ease restrictions, open economy and return to "normal".
The Morrison government has framed COVIDSafe as an integral part of its plan to lift the restrictions imposed on society and open up the economy. COVIDSafe could not afford this as much of Australia remained under severe restrictions and remained in lockdown until the end of 2021.
FAIL: Suppression of COVID-19 and its spread
Another widespread goal of COVIDSafe was to control the spread of the disease. Despite initial optimism about such apps, this goal was not achieved.
It was unrealistic to expect a contact-tracing app to suppress the spread of a virus whose epidemiological characteristics evolve over time.
---
Read more: Australia has all but abandoned the COVIDSafe app in favor of QR codes (so make sure you check in)


---
lessons for the future
Getting systems right is a process. Understanding the failures and successes of COVIDSafe is a useful starting point to advance the conversation about what "digital contact tracing 2.0" should look like.
Avoid techno-optimism
A techno-optimism ideology – the idea that for every complex problem there is a technical solution – was primarily at the root of the development of COVIDSafe. Officials used metaphors like "digital vaccine," "sunscreen," and "road to recovery," suggesting the app would protect individuals from infection and return life to "normal."
When developing health applications, governments should use "also digital" instead of a "digital first" approach. Health apps, especially new and rapidly deployed ones, should not be confused with medical solutions. Otherwise we risk unrealistic expectations and loss of public confidence.
understand needs
COVIDSafe has shown that digitizing a manual contact tracing process does not necessarily make it more effective. In a July 2021 report to Parliament, then Health Secretary Greg Hunt acknowledged that "the use of existing, well-established traceability procedures has limited the need for public health officials to rely on COVIDSafe".
When defining the scope and purpose of an app, we need to better understand everyone's needs and the existing manual processes.
manage data volume
During the development and launch of COVIDSafe, much attention was paid to privacy concerns, Bluetooth connectivity, accessibility and mass adoption.
But it seems that less attention has been paid to the needs of public health workers. The app made the work of contact tracers, who were quickly overwhelmed by the volume of data, more difficult. Public health personnel should be equipped with effective tools to manage incoming data; In this case, it would have been helpful to find out which encounters needed to be screened for possible close contacts.
privacy
Privacy considerations have been at the heart of the development of COVIDSafe, with a number of measures applied to the app itself, its legislation and its use.
Future apps should be developed to give people control over the collection and sharing of their mobility data, allowing users to choose appropriate options according to their personal privacy preferences.
---
Read more: The COVIDSafe bill doesn't go far enough to protect our privacy. Here's what needs to change


---
So, was COVIDSafe worth the investment?
Australia wasn't the only country to develop a contact tracing app. Several German-speaking countries, France, India and Singapore developed similar apps with varying degrees of success, while the UK, Italy, Latvia and others used the exposure reporting system developed by Apple and Google.
COVIDSafe reflects the urgency of early 2020 and the strong support for such technology from epidemiologists and other healthcare professionals.
It was also a bit like taking out insurance that you don't necessarily need: initial public acceptance didn't match the low positive case numbers. It's unclear if a similar app launched in 2022 would have yielded a different result.
Overall, it's hard to expect a financial return on such emergency investments. The app gave hope and comfort to some people during the dark times of 2020, and arguably delivered one Social return on investment.
---
Read more: The COVIDSafe app is designed to contact tracers. We crunched the numbers to see what really happened


---