TALLAHASSEE, Florida. – Florida's property insurance market was already under threat. Then came Hurricane Ian.
The massive storm that swept through Southwest Florida, delivering catastrophic winds, rain and flooding, is likely to further damage the state's insurance market, which has been burdened by billions in losses, bankruptcies and skyrocketing premiums.
The extent of the destruction from the storm will become more apparent in the coming days, but there are concerns it could exacerbate existing problems and strain a state insurance program that has already seen a sharp rise in policies as homeowners scramble to get coverage found in the private market.
"Florida's property insurance market was the most volatile in the United States before Hurricane Ian formed and will most likely become even more volatile after the storm," said Mark Friedlander, communications director for the Insurance Information Institute.
TIED TOGETHER: Climate change is shaking the insurance industry – and homeowners are feeling the heat
The private insurance industry has lost more than $1 billion in each of the last two years, and hundreds of thousands of Floridians have had to drop or not renew their policies. Average annual premiums in Florida have risen to over $4,200, three times the national average.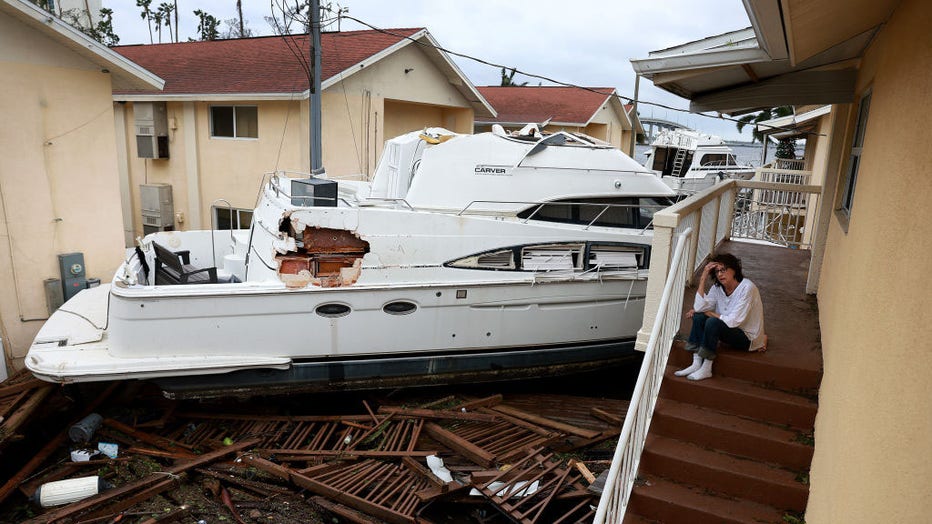 Brenda Brennan sits next to a boat that crashed into her home as Hurricane Ian swept through the area September 29, 2022 in Fort Myers, Florida. (Photo by Joe Raedle/Getty Images)
More than a dozen companies have stopped writing new policies in the state, and several have closed up shop this year. A company was declared bankrupt and placed in receivership this week while Ian was en route to Florida.
Homeowners unable to get coverage or be priced out of plans are flocking to the state's public insurer, Citizens Property Insurance, which this summer sold more than 1 million policies for the first time in nearly a decade. Citizens Property Insurance was created by the state legislature in 2002 for Floridans who could not find coverage from private insurers.
State regulators and insurers have long blamed lawsuits by homeowners as the primary culprit in the state's crisis. They say state laws make it highly profitable for attorneys to sue insurance companies, even when the amount won is relatively small. In the second half of the 2010s, Florida accounted for about 8% of all US homeowner claims, but nearly 80% of all US homeowner claims against insurers, according to a letter from the State Office of Insurance Regular.
In May, as hurricane season approached, the state legislature held a special session to address the insurance crisis. In three days, with little public input or expert analysis, the bipartisan legislature, with bipartisan support, passed sweeping legislation that many in the statehouse saw as a sensible first step in restoring the market.
Provisions included the creation of a $2 billion reinsurance program that insurers could participate in to protect themselves against risk as long as they lowered rates for policyholders. The law provides grants of up to $10,000 to retrofit homes to make them less vulnerable to hurricane damage. It's also about capping various attorneys' fees in insurance-related lawsuits.
Despite this, Florida's main rating agency Demotech threatened about two dozen companies with downgrades this summer. However, concerns about their creditworthiness eased somewhat after Gov. Ron DeSantis' administration agreed to allow the state to support insurers.
DeSantis noted during pre-storm press conferences that flood claims could be a major concern of Ian's.
TIED TOGETHER: Florida sees significant flooding and water rescues after Ian drenches state
Home insurance policies — including those in Citizens — do not include flood protection, which is handled under a federal program and is a separate matter from the insurance market. Government-backed flood insurance is generally required for mortgaged homes in flood-prone areas, but people who own their homes outright sometimes refuse to obtain it, and it is less common in areas not typically flood-prone.
"We look at a lot of flood claims," ​​the governor said when asked about the potential for claims to exceed Citizen Property Insurance. "I'm not saying there won't be a lot of wind damage, I mean it's a hurricane so you'll probably see that.
"There's more I want to do in relation to wind insurance and that's what we're going to address. I mean, you see, at the end of the day we have to make sure people are taken care of, and so we're going to do whatever we have to do."
DeSantis said at a news conference Wednesday that Citizens Property Insurance should be in solid shape even after damage from Hurricane Ian because the state-backed company has a billion-dollar surplus. A Citizens spokesman said he estimated 225,000 claims and $3.8 billion in losses from Ian, although he noted those projections were made before the storm made landfall and would likely change if the damage is fully assessed.
"Their modeling, based on paying out a lot of money in claims for it, was that they would still have a surplus of between 4 and 5 billion. So they see themselves as capable of getting through this," DeSantis said.
Watch: Firefighters smash car windows to rescue woman from Ian floodwaters
More than 2.5 million people in Florida were under mandatory evacuation orders when Ian made landfall as a Category 4 hurricane Wednesday afternoon. Some residents left their homes hoping for minimal damage upon their return.
"I just don't see any benefit in sitting in a hot house in the dark and watching water come into your house," said Tom Hawver, a Fort Myers handyman who evacuated his home on Wednesday. "And I can't do anything about the wind or water, so I'll go back and assess it in a couple of days."
Hurricane Ian: How to Help Victims and Avoid Fraud