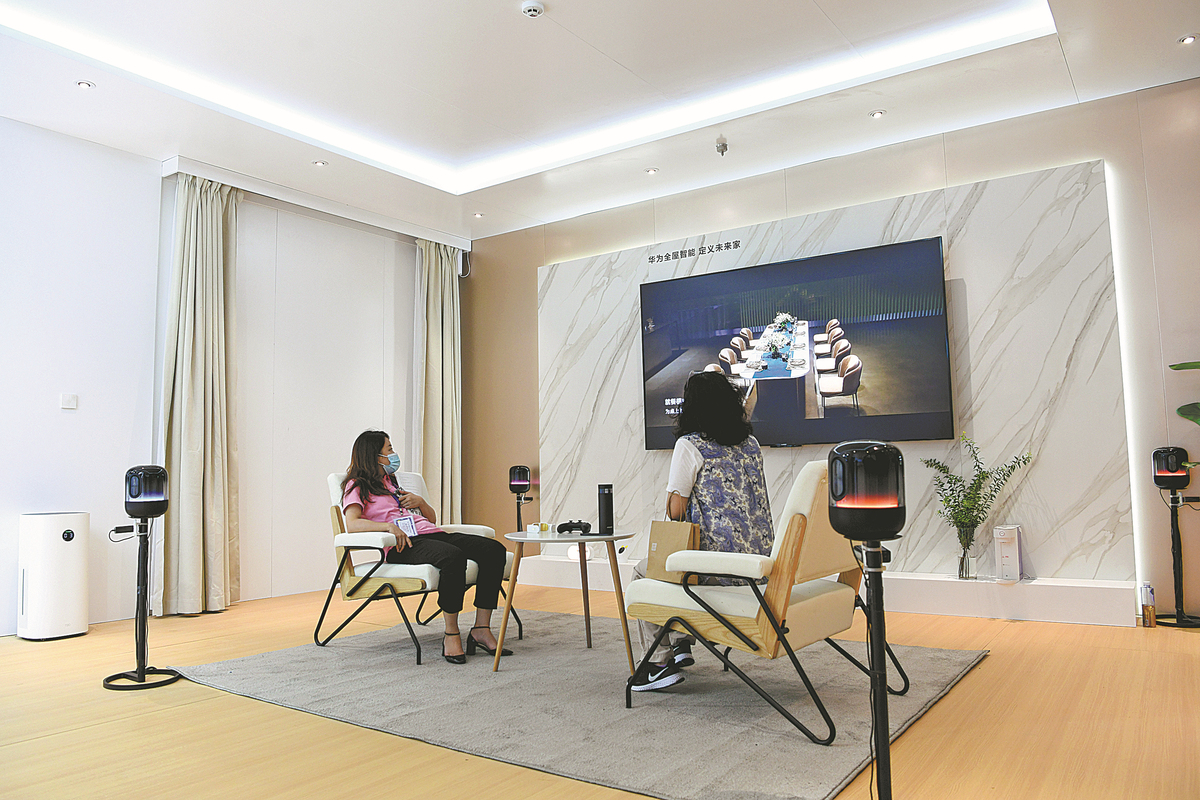 Household appliances are becoming increasingly user-friendly as apps are simplified and better coordinated
Su Ying, a tech-savvy expert in Shenzhen, Guangdong Province, is always eager to try the latest fancy smart hardware products. For example, he has more than 50 smart home devices in his house, but they're not always as smart as he thinks they should be.
"The smart home devices have to be controlled via four different apps under separate management. However, now I can use an app to turn off the light in the living room while I'm physically in the bedroom and authorize the use of digital door locks for my family, I've encountered three major problems," Su said.
All management has to be done through the smartphone and it is extremely cumbersome to connect the phone to 50 other smart home devices. In the meantime, the connections are unstable. "When there are more than 10 smart devices, it makes me dizzy and in fact many of them are less used and just end up as useless decorations," he added.
Su is among a growing number of Chinese consumers ready to embrace smart home products, making the country's smart home industry even more promising in the years to come.
According to US-based market research firm International Data Corp. China's shipments of smart home devices will grow 17.1 percent year-on-year to exceed 260 million units in 2022 as smart home optimization and upgrades continue.
Shipments are expected to grow at a compound annual growth rate of 21.4 percent to 540 million units by 2025, by which time the market size will surpass 800 billion yuan ($115.8 billion), IDC said.
The trend is in line with a global report by US-based personalized communications service provider Plume. The company found that home tech users have a growing appetite for IoT and smart home technologies. On a global basis, the average number of connected devices per household was 17.1 at the end of June 2022, an increase of 10 percent compared to the same period last year.
While the issues Su is facing are becoming more common in the consumer group, "we expect that smart home technologies will accelerate upgrades as a market for fully managed services, along with the development of user-device interactions, upgrades in connectivity and expanded sales channels," said Quorra Liu, Senior Market Analyst for Devices Research, IDC China.
According to IDC, 5G and artificial intelligence will play a key role in strengthening the connection of various smart home devices in various application scenarios and facilitating human-machine interaction.
Other cutting-edge technologies such as voice interaction and face recognition have gradually been applied to smart speakers, security surveillance devices and other smart home devices to improve user experience and expand their capabilities, IDC added.
And this is exactly how Chinese companies are working to solve the problems.
They work hard to improve their product solutions with new technologies. For example, Huawei Technologies Co presented its smart home project, which offers a full range of smart home devices in a total area of ​​550 square meters, including a living room, kitchen, study, home gym and entertainment room in particular and a garage.
Shao Yang, chief strategy officer of Huawei's Device Business Group, said the company aims to transform the device-centric approach into a people-centric approach – namely, making the home sphere welcome people and better serve users.
Huawei aims to enable every home user to receive the most convenient and intelligent service by integrating home spaces and devices in an orderly manner, unlike the traditional methods of installing independent, unconnected smart products, the company said.
Specifically, through the use of wireless technologies, Huawei's products – including phones, PCs, tablets, watches, smart speakers, and smart TVs – are integrated with products from Huawei ecosystem partners to provide a convenient, intelligent, and immersive smart home experience , according to the company.
In the living room, a few words are enough to wake up the smart assistant and activate Back Home Mode. In this mode, air purifiers and warm lights are turned on, and even curtains are closed. These connected devices can all be controlled with the same smart assistant, Huawei said.
In the kitchen, consumers will find a full range of home appliances powered by Huawei's in-house developed HarmonyOS operating system, Shao said, adding that a simple tap of the phone will connect against such appliances. Air cookers, food processors and other kitchen appliances have built-in recipes that make it easier than ever to cook like a master chef.
Such features are partially enabled by HarmonyOS. Yu Chengdong, CEO of Huawei's device business group and CEO of the company's intelligent automotive solutions business unit, said in July that the company's more than 300 million devices are now equipped with HarmonyOS 2, making it the world's fastest-growing operating system.
Meanwhile, more than 170 million third-party products equipped with HarmonyOS Connect for IoT functionality have also been shipped from factories to retailers across China, Yu said.
Xiang Jiangxu, vice president and chief technology officer of home appliance maker Midea's IoT business, said HarmonyOS covered "almost all categories of our products" — around 200 varieties — last year.