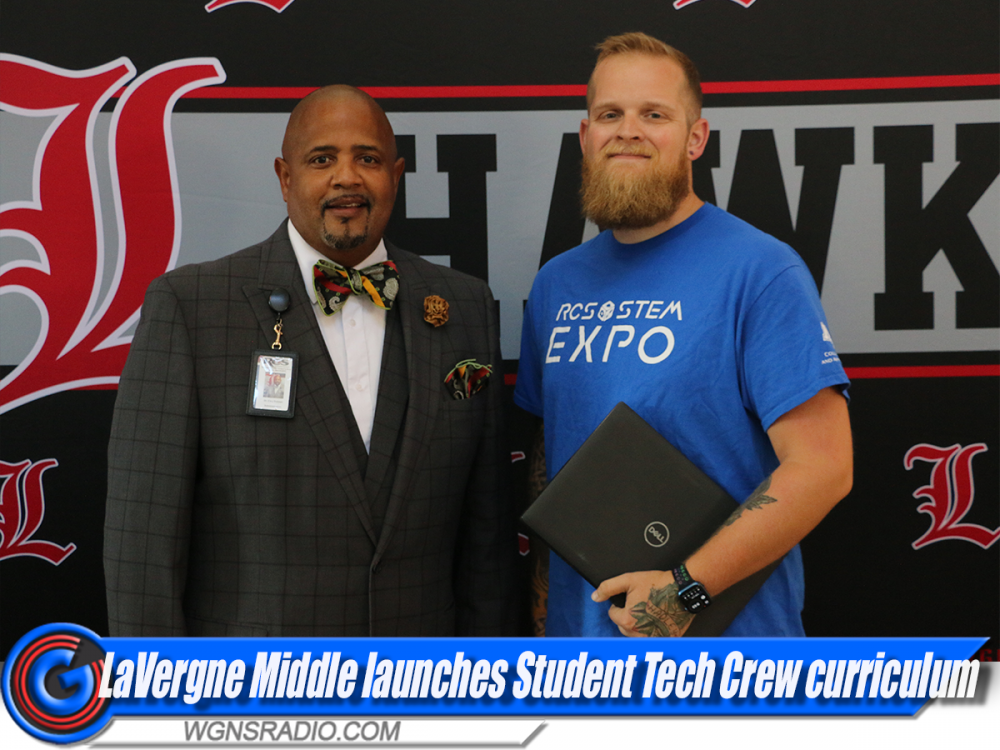 LaVergne Middle Principal Cary Holman stands with STEM teacher Travis Diate
Through a new curriculum program, students at LaVergne Middle acquire valuable technical skills and explore future career opportunities before stepping foot on a high school campus.
As the first middle school in Rutherford County to take the Student Tech Crew coursework, students work to expand their knowledge of computer systems, software, and computer repair.
"Essentially, the students learn how to maintain and repair various hardware systems. They install the operating systems, troubleshoot hardware and technical issues, and learn about career and technical opportunities," said Travis Diate, STEM teacher at LaVergne Middle.
As technology becomes more complex and enriches our lives, the need for skills to repair these devices has increased. In addition to providing an opportunity to earn computer repair certifications, Diete helps students find careers to pursue after graduation.
"I have a group of 14 eighth graders who will be the first group to go through this curriculum with me. So by completing the course material and learning more about the opportunities out there, several doors are open to them," Diate said.
The students have also expressed a lot of enthusiasm about taking part in the challenging course. Most students today have grown up with gadgets in hand and surrounded by ever-changing technological advances. The course engaged and challenged the students, Diate said.
Keegan Davis, one of the students enrolled in the class, said the coursework was "interesting and fun" but admitted "it can be difficult at times."
Davis' classmate Stephen Guzman remarked, "It's a great program that will lead me to great opportunities and great success in life."
LaVergne Middle is also seeking acceptance into the Dell Certification program, and if accepted, the school will become one of only three in the US to do so – joining McAdory Middle School in Alabama and White Settlement ISD in Texas at.
"Our goal for professional and technical education is to seamlessly align our programs of study across middle, high and post-secondary levels," said Tyra Pilgrim, Rutherford County Schools CTE coordinator. "This will be our first opportunity to align middle school information technology degrees with our high school programs."
LaVergne Middle remains the only school in the district to implement Tech Crew coursework at the middle school level, and students are excited to get started.
"Our goal is for students to have industry certifications and this course will help foster that," added Pilgrim.
Although the coursework can be challenging at times, it is an excellent opportunity for students to explore information technology before moving on to more advanced degree programs, said Jeannie Williams, RCS instructional technology coordinator.
"Any exposure these students have with the materials and course opportunities that our high schools offer, or with future career opportunities that are available to them, is excellent," Williams said.
Additional headlines you may have missed on WGNS: