Toledo, Ohio – Christo Lamprecht picked up his first collegiate win on Tuesday, firing 72 (+1) on the final lap to complete a two-stroke triumph at the Inverness Intercollegiate. Sixth-placed Georgia Tech hit a 3-over-par 287 on the final lap and finished second in the team race.
Lamprecht had taken a three shot lead in the tournament after 36 holes with rounds 67-67(-8) before winning in Round 3. A native of George, South Africa, he broke through to his first college medal in his 23rd yearapprox Restarting his career after finishing twice last year as runners-up, at the Maui Jim Intercollegiate and the Southern Highlands Collegiate. He has 11 top 10 finishes in just over three years of college competition.
Tech is quickly turning around for his next tournament, traveling next Monday and Tuesday at the Colonial Country Club in Fort Worth, Texas for the Ben Hogan Collegiate Invitational.
ROUND 3 RECAP – Senior Connor Howe shot a 1-under par 70 and junior Aidan Kramer hit his second straight par 71 to lead Tech on the final loop. Lamprecht finished his personal win with a 72 and freshman Hiroshi Tai added a 74 (+3) as the Yellow Jackets hit a 3 over par 287.
Howe finished the tournament alone in 14th placeth Course at 4 over par 217 while Tai was tied at 20th Place at 219 (+6). Kramer tied for 38th place with 222 (+9), while Benjamin Reuter ended up a tie at 78 in his sophomore yearth at 233 (+20).
ROUND 2 RECAP – Lamprecht's second straight 67 and an even par 71 from Tai and Kramer sent the Yellow Jackets to a team total of 285 (+1) in Round 2 Tuesday morning. Reuters 76 (+5) was Tech's fourth count.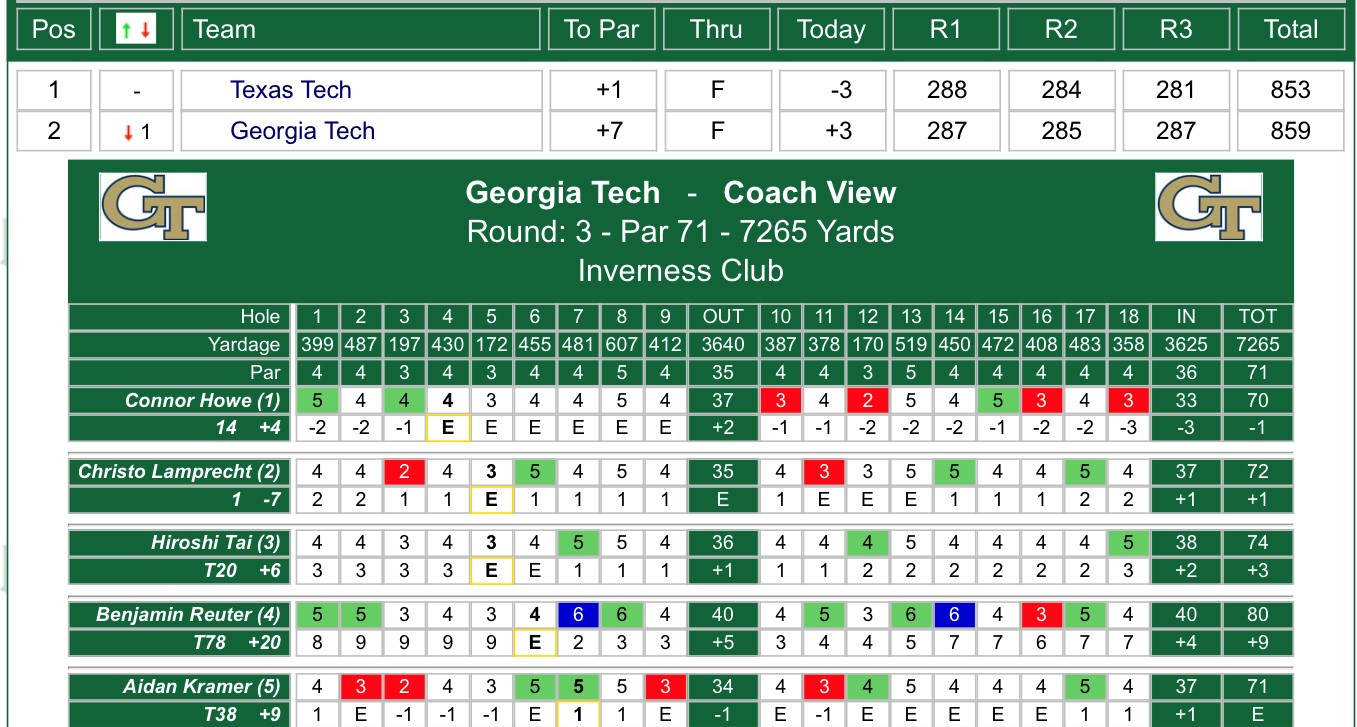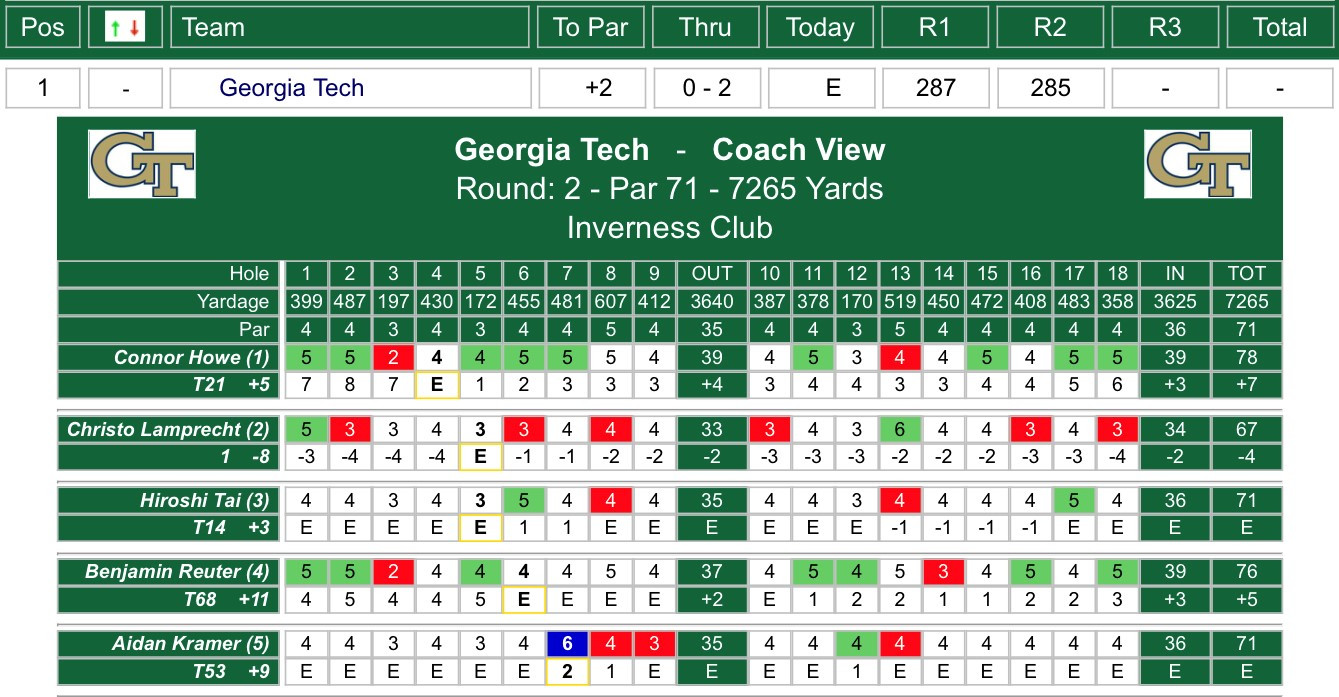 TEAM leaderboard — No. 8 Texas Tech soared in the second half of Tuesday's final round, posting a 3-under par round of 281, finishing the tournament at 1-over par 853 and earning a six-stroke victory over #6 Georgia Tech, who finished 54 holes at 859 (+7). Three Red Raiders placed individually in the top 10.
Oklahoma No. 4 was third with 863 (+11), followed by Virginia with 864 (+12) in fourth place. Louisville and No. 20 Notre Dame finished fifth with 873 (+21).
INDIVIDUAL CUSTOMER – Lamprecht was a stroke behind after his first 67 but once he took the lead he never gave it up, holding challenges from Texas Tech's Calum Scott (71) and Virginia freshman Ben James (68) on Tuesday afternoon away. Lamprecht carded a total of 206 (-7) over 54 holes, two strokes ahead of Scott (208, -5). James and Maxwell Moldovan of Ohio State tied for third place with 211 (-2).
Texas Tech's Ludvig Aberg and Notre Dame's Taichi Kho shared fifth place on a par 213 straight.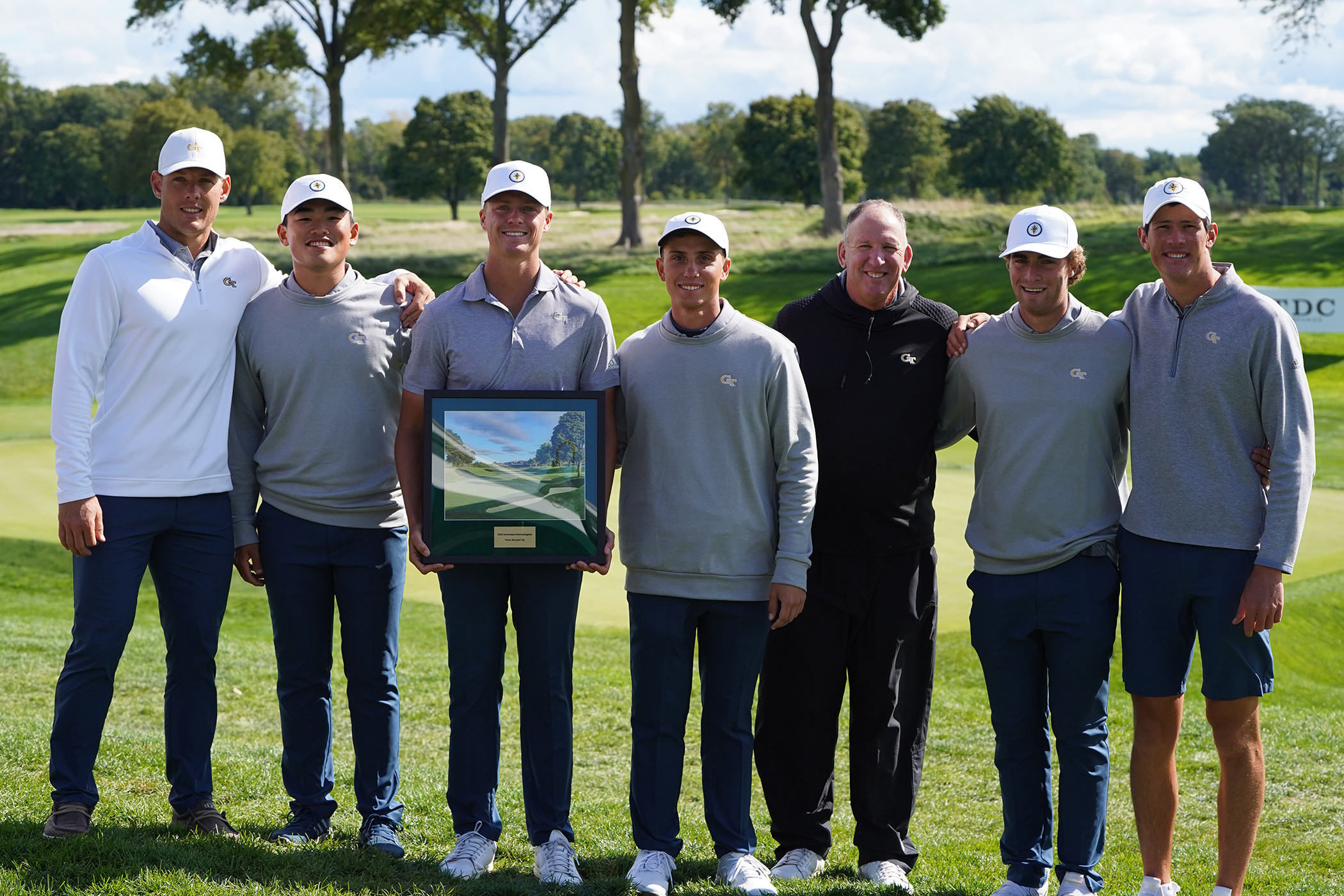 Yellow Jackets pose with the trophy for second place at Inverness Club. From left – Assistant Coach Devin Stanton, Hiroshi Tai, Connor Howe, Aidan Kramer, Head Coach Bruce Heppler, Benjamin Reuter, Christo Lamprecht. (Photo courtesy of Toledo Athletics)
---
Alexander Tharpe Fund
The Alexander Tharpe Fund is the fundraising arm of Georgia Tech Athletics and provides scholarships, surgeries and facilities for Georgia Tech's more than 400 student-athletes. Join the development of Georgia Tech's Everyday Champions and help the Yellow Jackets compete for championships at the highest levels of collegiate athletics by supporting the Annual Sports Scholarship Fund, which directly awards scholarships to Georgia Tech student-athletes. To learn more about supporting the Yellow Jackets, visit atfund.org.
ABOUT GEORGIA TECH GOLF
The Georgia Tech golf team is in its 28th yearth year under head coach Bruce Heppler, who won 70 tournaments during his tenure. The Yellow Jackets have won 18 Atlantic Coast Conference championships, played 31 times in the NCAA Championship, and been national runners-up four times. Connect with Georgia Tech Golf on social media by liking or following their Facebook page Twitter (@GTGolf) and Instagram. Visit Ramblinwreck.com for more information on Tech Golf.