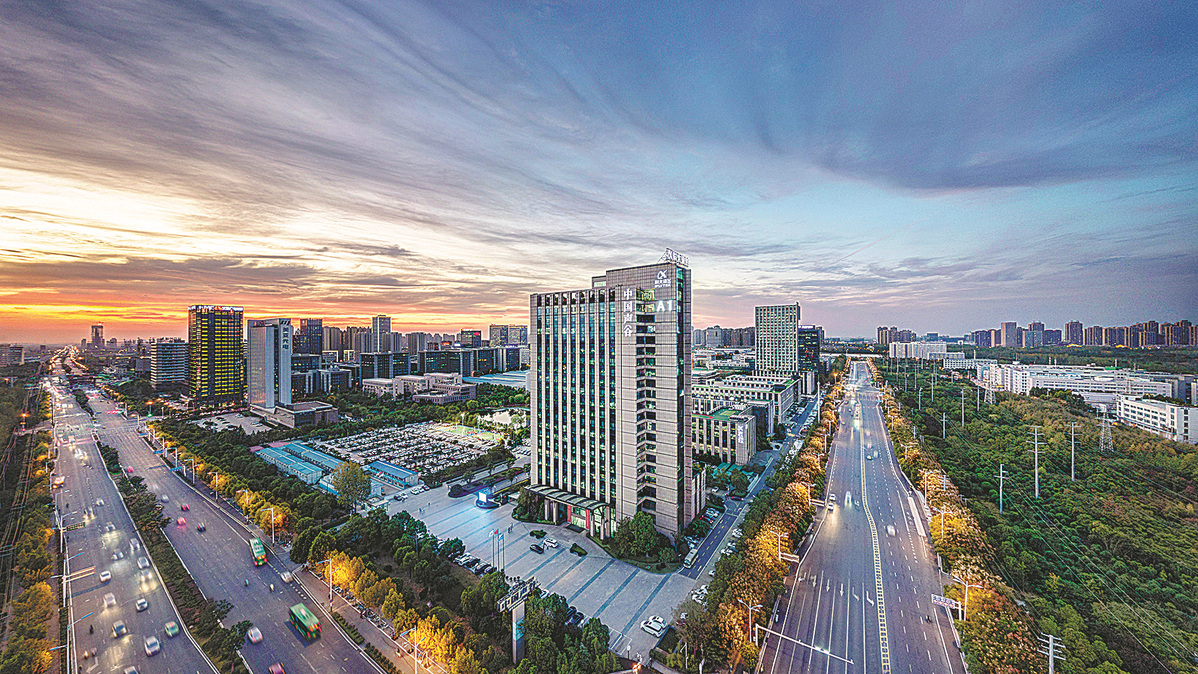 National high-tech industrial development zones will continue to be used to achieve new breakthroughs in core technologies, nurture high-skilled talent, enhance global reach and support China's socio-economic development, officials said on Wednesday.
National High-Tech Development Zones have been used to advance China's innovation-driven development strategy. Since 2012, President Xi Jinping has paid these zones more than 20 visits, according to the Ministry of Science and Technology.
As of 2022, there are 173 national high-tech development zones, 84 more than 2012. China has also set up 23 domestic innovation demonstration zones, 20 more than 2012, supported by these high-tech development zones.
The gross domestic product of high-tech development zones grew from 5.4 trillion yuan ($782 billion) in 2012 to 15.3 trillion yuan in 2021. These zones contributed 13.4 percent of China's GDP in 2021, while only 2.5 percent of the country's building land.
Wu Jiaxi, deputy director of the ministry's department of research commercialization and regional innovation, said the high-tech zones have shown resilience to risk and are poised to grow despite global uncertainties in recent years.
From January to July, the 173 national high-tech development zones achieved gross industrial output worth 17.5 trillion yuan, up 8.1 percent year-on-year. This production generated revenue of 27.4 trillion yuan, up 7.1 percent from the same period last year.
Wu said the ministry will continue to provide policy support to high-tech zones to achieve stable growth and encourage investment in key areas such as digital technologies, energy, advanced materials, chemicals and biopharmaceuticals.
National high-tech zones are home to 84 percent of China's key state laboratories and 78 percent of national technological innovation centers.
As a result, high-tech zones have become an important hub for high-quality science and technology talent, Wu said. The Ministry will continue to support high-level talent working in these zones.
For example, the National High-Tech Zone in Changsha, Hunan Province will invest 1 billion yuan over the next three years to attract talent.
Small and medium-sized tech companies are major contributors to the growth of national high-tech zones, he said. To do this, the Ministry must support these companies with tax breaks and new investments, and help them to commercialize their scientific and technological results.
Li Youping, deputy director of the ministry's Torch High Technology Industry Development Center, said national high-tech zones have been a key pillar of economic growth, innovation, employment and entrepreneurship, talent training and international trade over the past decade.
The number of national high-tech zones, whose annual revenue reached over 100 billion yuan, has increased from 54 in 2012 to 97 last year, he said.
At the end of 2021, the national high-tech zones hosted over 4,400 research institutions with over 5.63 million researchers, a 2.5-fold increase from 2012.
The total R&D budget in these zones has more than tripled over the past decade, surpassing the 1 trillion yuan milestone in 2021. The number of high-tech enterprises in the national high-tech zones also rose to 115,000 last year from fewer than 20,000 in 2012, Li said.
With these resources, high-tech zones have made numerous breakthroughs in quantum technologies, high-speed rail, Beidou satellite navigation system, C919 passenger jet, 5G telecommunications and other areas of strategic importance, Li said.
China's first artificial intelligence chip, the first quantum communications satellite, the first vaccines against COVID-19 and many other breakthroughs have been made by scientists and companies working in high-tech zones, he added.
Many of these high-tech products conquer foreign markets. Total exports from high-tech zones accounted for about 3.2 percent of China's total exports in 2012. In 2021 it was 24.4 percent.
More than 47,000 foreign researchers are currently working in these high-tech zones, along with 211,000 Chinese experts who have returned home after studying abroad.
"These high-tech zones have become a crucial platform for opening up, innovation and cooperation," Li said.
National high-tech zones had established over 2,200 foreign research institutions by the end of 2021, a 4.6-fold increase compared to 2012, and over 77 percent of them have implemented policies to support internationalization.
"In the future, national high-tech zones will focus on high quality, high standards and new technologies," Li said.
"These zones will become the vanguard for high-quality development and make more contributions to China's transformation into a scientific and technological powerhouse."