Mergers and takeovers are changing the freight forwarder landscape in particular. They also affect technology providers.
Michael Winton is President, North America at AMCS, a major cloud and software platform provider based in Ireland serving waste and recycling customers. Consolidation among carriers may mean extending the same software systems to acquired assets. And smaller companies adopting technology could represent stronger acquisition targets, Winton said in an interview with Waste Dive.
M&A was also important within the technology sector. "The technology space probably mirrors the operator space in terms of M&A," Winton said. "The most important type of acquisition for us right now is one where we acquire an addition to our solutions footprint that will help expand the range of services and business benefits we offer to our existing customer base."
Winton reported well over a dozen acquisitions by AMCS during his tenure, including US-based Dossier Systems, a deal announced last November that allowed AMCS to grow in fleet maintenance management.
Today, about 60% of revenue comes from existing customers and 40% from new customers. Winton said the company will continue to explore how AI applications can further help with routing, pricing and other areas of operations going forward.
This interview has been edited for brevity and clarity.
WASTE DIVE:

It is becoming increasingly common for various facets of waste companies to become digital. Do you all see a lot of "low hanging fruits" left – US waste operations that could still adopt technologies that have been around for a while – or is AMCS now more focused on expanding the scope of tools used by existing customers?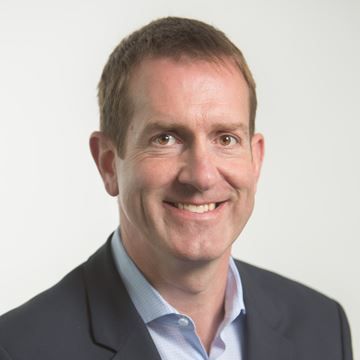 WINTON: If you think about mobile technologies or cab mobility – the mobile applications were introduced to the industry six, more than eight years ago I think – we realize that there are still operators with printed route maps. So I think there's still a lot of low-hanging fruit left.
Within the waste and recycling industry, compared to other industries (financial services and certainly other consumer markets)…there are still very few operators conducting real commercial business transactions with their customers digitally. So I think there's still a lot of low-hanging fruit to automate in the industry.
Which of AMCS' offerings is currently driving the greatest growth in the North American waste and recycling market?
I don't think we're seeing a specific segment. We operate on the whole market as it could be segmented by operator size.
We're seeing a lot of traction within the Tier 1 market, which is doing a lot of the acquisition in the North American market. But similar [down market]there are still plenty of them [spending] on technology as these operators look for ways to differentiate themselves within their regional market. And I think horizontally across our solution footprint, we see this drive to digitally engage customers. That's a key theme, whether it's engaging customers digitally to service their existing customers – and thereby reducing service costs – or actually attracting new customers and driving revenue growth online. This is a big growth area.
What we see is really widespread [is the] Emergence of the circular economy. So many waste operators are starting to see [waste streams as resource streams]. Public, WM, both in their rebranding and [their investment dollars] strive to act as energy producers. We have customers who capture landscape and garden waste in the waste stream, recycle it into compost and resell it as consumer compost and fertiliser.
Similarly manufacturing customers who are entering the recycling stream to recover raw materials for their production operations – whether they are metal manufacturers moving further down into metal scrap capture and collection, or paper manufacturers moving further down into going down the value chain to source recycled fibers for their factories – I think [this circular economy theme] is probably another important factor that we see across the business.
You mentioned M&A in the industry. How are all of these mergers and acquisitions affecting AMCS' presence?
I think it's affecting the whole market quite a bit.
I have been with AMCS for six years and lead our North American business. M&A, among other things, has brought more professional money into the industry, and with each passing year there is more professional money in the industry — so more private equity investors and more professional investors. And I think that drives more professional management and a greater focus on professionally run companies and often leads to an investment in technology for us. Therefore, we see M&A activities and the influx of professional investors as very healthy for us as a technology partner in the market.
How do you see all partnerships with other technology providers? Are there things AMCS can do when other providers are involved with a carrier to potentially harmonize technologies or improve the overall experience?
We definitely see the possibility of a partnership. If you think about where we sit, we sit as the central hub and over the core operations of most of our customers. At the heart of these critical operations, we help our customers make the most of data.
[As a software company]we have invested heavily in an open architecture. More than three years ago we thought it would be really important for us to be more open and easier to integrate with other technologies. One of the innovations we introduced this year is a solution called Vision AI, which uses artificial intelligence to help our customers detect contamination in the waste stream and recycling stream [into a truck].
There are two key players in this solution: one is the device that captures the image, whether it's still or video, and two is the sophisticated software that interprets the image. Therefore, we work with a variety of device vendors who capture the image. We saw this as something to be open about that a number of our customers have standardized their trucks in their operations with different suppliers. So collecting this data in this regard was not something we would focus on. We wanted to remain focused on maximizing the value of the data captured by these devices.